Oak Hill Marine Design
Naval Architecture ~ Marine Design ~ Manual and Computer Drafting Services
165' Excursion Boat - Lofting and Creation of Parts
In early 2007 Oak Hill Marine Design was hired by Bay Marine, Inc., in Barrington, Rhode Island, http://www.baymarine.us/ to provide CAD data for the detail design of a 165' excursion vessel. The hull was a relatively simple shape, but the superstructure required more extensive computer modeling to meet the builder's requirements.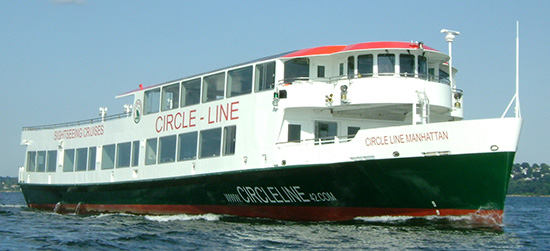 Excursion Boat After Launch - The completed vessel underway. (Photo by Gladding-Hearn Shipbuilding)
Using AeroHydro's MultiSurf, and a macro provided with the software, we translated the designer's AutoCAD-format 2D lines into plan, profile, and section curves in 3D. We then modeled the hull, skeg, and main deck in 3D to match. Once the modeled hull and deck lines were approved by the designer, we began to create the internal structure. This included transverse bulkheads and frames of differing thicknesses, longitudinal stiffeners, bulkheads, and girders, and sloping sole plates in some locations. We then provided Bay Marine with expanded plate shapes and structural sections, which they then detailed for CNC cutting by the builder. The structural sections, along with plan, profile, and fore and aft views of plates, were also used by Bay Marine to create construction drawings.
The vessel design included a two-level deck house with a curved-front pilothouse on the second deck. The longitudinally curved deck house sides and top had large windows that required plane installation surfaces. Using MultiSurf's advanced capabilities we were able to model the sides and top as faceted surfaces. This left the plate area between the frames flat, with oblique angle bends on the frame centerlines. The deck house side and top surfaces were expanded in MultiSurf and exported as a CAD file with reference lines for window cutouts and plate bends already located.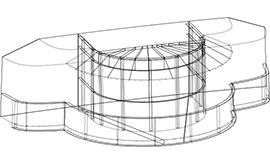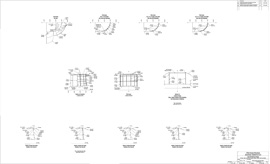 Pilot House Wireframe, and Pilot House Structure
The pilot house also required some modeling ingenuity. It had a curved front and flat sides, all with tumblehome. The top was a compound curved surface, with a curved and angled visor at the forward end. This visor was faired into the deck house top with curved and angled plates port and starboard. We modeled all of these surfaces and the internal structure of flat bar, plate, and RHS tubes. We then exported expanded or developed shapes for the side, front, top, visor, and fairing plates, plus internal bar and plate structural parts, all to be CNC cut by the builder.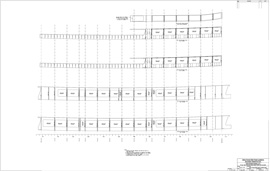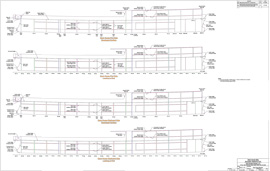 Deck House Side Facet Locations, and Deck House Sides
Per our agreement with Bay Marine we provided the builder with 3D models of the plates and structure in AutoCAD. We also created a wireframe model from the hull model for hydrostatic analysis, and offset tables of the hull and superstructure for the builder's use when erecting the frames.
Oak Hill Marine Design, LLC., P.O. Box 1266, Southwest Harbor, ME 04679